Show your bike
If you think your bike is good enough to be placed on my page please e-mail him to me. I can't make this page without photo's
---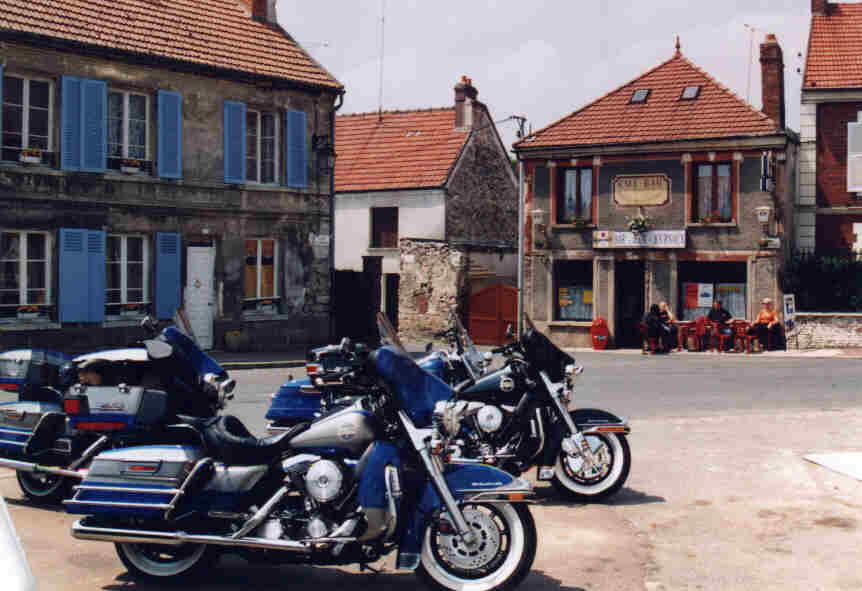 Ben, Dave, Henk and Petra are the proud owners of these three Ultra's and the roadking. This picture is taken in France.
---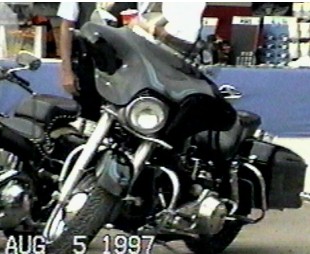 This is Kevin's bike
Kevin's bike is a 1978 FLH 1200, but it didn't look like it does know. It was a copper color and and the seat was different, but he has born it from the ground up and it isn't an AMF anymore.
---
What you see here is a Gambler nostalgia rigid frame with 0" stretch, 0" rise and 31 degree rake. All the brackets and mounts except the two bottom motor mounts were fab'ed by myself. Thats a '40's springer front end modified for modern neck and axle tapered roller bearings and disc brake. The motor is a 107" big bore S&S with Ness radius boxes, pushrod tubes and my own exhaust system, fired by a Morris mag. It drives a 3" primo belt, turning a Rivera pro-clutch, on a Sputhe 5 in a 4 with kick start, no batteries here. It rolls on custom laced, Exile Cycles, monster wheels (that's 15x200 in the rear and 18x180 on the front) with sprocket brake and matching front disc and caliper. I also hid the front master cyclinder under the Fat Katz 35 tank and made my own pegs and controls. It's certainly not your everyday scratch build, nor is it your built to order chrome and billet rub machine. It's obviously taken styling ques from the last 50 years of Harley Davidson rides although, there's only a 1/2 dozen actuall H.D. parts. But, it's mine, my attempt at continuing an american tradition.
---
If you would like to put a photo of your bike here E-mail me !
---
[Index] [Links] [Show you're bike] [Happenings] [Bikerstory's]
[Dealers] [News from the factory] [Thanks]